HOME / Table of Contents = Civilizations - Cultures - Areas - Regions - Prehistory
Other Archaeological Sites / The Neolithic of the Levant (500 Page Book Online)

Ancient Cairo (Arabic Qahira)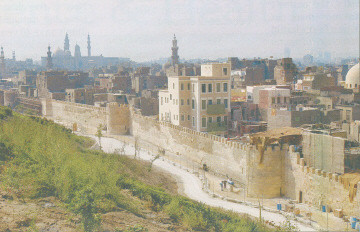 Cairo was established in 969 AD by the Fatimids when they conquered Egypt but the area has been populated for at least 6000 years and has served as the capital of ancient Egypt ......
Throughout the ages Cairo managed to survive by fulfilling her rulers wishes be they Ancient Egyptians -- Greeks -- Romans -- Arabs -- Turks. To please them she assumed various names: Memphis (Ancient Egypt) -- Heliopolis (Ancient Egypt) -- Babylon-in-Egypt (Roman) -- Fustat (Arabs) -- Qahira (Modern Arabic). Today Greater Cairo encompasses various historic towns and modern districts into one of the largest metropolises in the world. A journey through Cairo is a virtual time travel ......