HOME / Table of Contents = Civilizations - Cultures - Areas - Regions - Prehistory
Other Archaeological Sites / The Neolithic of the Levant (500 Page Book Online)
McDonald Ancient Near East Book Auction Ad Infinitum

Sinai Peninsula

Selected Excerpt on the Sinai Peninsula

Egypt, Canaan, and Israel in Ancient Times
Donald B. Redford (Princeton University)
Library of Congress # DT 82.5 P19 R43
The presence of man in Sinai dates back eight thousand years. Later Bronze Age settlers arrived in search of valuable metals. They developed the peninsula's copper and turquoise mines which later drew the attention of Egypt's earliest pharaohs. By 3000 BC Egypt had asserted its control over the region. For the next three millenia Sinai remained sparsely inhabited, serving primarily as a mining region and as a military route between Egypt and the great civilizations of the Fertile Crescent .....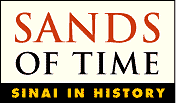 Other Online Links
Flinders Petrie's report on an expedition he made to the Sinai Peninsula is mainly concerned with the ruins of the Temple of Serabít (located in the mountains on the southwestern part of the peninsula). This temple was dedicated to the Egyptian deity Hat Hor (originally Ishtar according to Petrie) and was associated with nearby mines which were a source of turquoise for the Egyptian pharaohs. The text given in these web pages was scanned from the original 1906 Edition. It was put into HTML by Peter Meyer .....
READ MORE OF THIS SCANNED BOOK by Peter Meyer
The History of the Ancient Near East Electronic Compendium